Funcom's Horror Game The Park Gets A New Trailer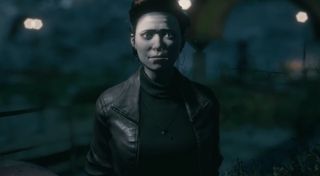 We haven't heard a whole lot about Funcom's horror walking sim called The Park. It's an atmospheric game where players take on the role of a mother named Lorraine who ventures into a spooky old park looking for her missing son, Callum.
PC Gamer spotted the new trailer from Funcom, featuring the character of Lorraine and some of the gameplay from the upcoming horror title. Check it out below.
The character, claimed to be rough around the edges, seems to have some sort of mysterious aura about her but Funcom didn't reveal anything further. As far as the gameplay goes, players will be able to travel around in first person, exploring the park and looking for Callum.
Funcom did reveal one key feature of the gameplay and that's the ability to call out for Lorraine's son, ala Heavy Rain and the whole Jason segment.
There are already jokes going around about calling out to Callum. However, there will be a huge difference between The Park and Heavy Rain and that boils down to Lorraine's mental state throughout the game.
Depending on where you are in the park and what's transpiring, as you call out to Callum there will be an actual emotional reaction in Lorraine's voice. She will begin to panic, break down and generally feel distraught as the journey progresses downward through a decent into madness.
So far they didn't reveal anything about the game in terms of what other forms of interactivity the player will have at their disposal other than being able to explore and partake in some light puzzles. The likelihood is that defending oneself like in Amnesia or Penumbra is out of the question. Funcom also revealed that the game will only be anywhere between an hour or two long, so this is closer to what you might expect from a self-contained movie.
The Park is also set within the universe of The Secret World, so there will be shared experiences there, including some of the monsters that inhabit Funcom's MMO. The PC Gamer article points out that one of the monsters from The Secret World appears to make an appearance in a screenshot but in what capacity the creatures will be present hasn't really been revealed. I'm sure Funcom wants gamers to exercise a sense of discovery as they venture through the abandoned park that was shutdown after numerous accidents (similar to Five Nights At Freddy's pizza parlor).
There's no set release date for The Park but the game is scheduled to launch sometime during October, which would perfectly sync up with the month's Halloween horror themes. You can keep an eye on The Park by paying a visit to the game's official website. If you haven't already, you can also check out Funcom's The Secret World by visiting the official website if a horror/conspiracy MMO is up your alley.
Staff Writer at CinemaBlend.
Your Daily Blend of Entertainment News
Thank you for signing up to CinemaBlend. You will receive a verification email shortly.
There was a problem. Please refresh the page and try again.