GOG Offers Deep Discounts On 10 Dungeons And Dragons Games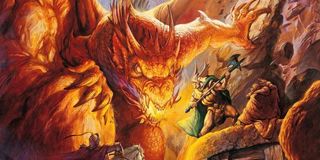 GOG has a pretty amazing deal going on this weekend, offering a whopping 10 Dungeons and Dragons games for just $21.10.
This news comes courtesy of the folks over at Joystiq, who first stumbled upon the sale. You can head on over to GOG (opens in new tab) and start spending your money right this very second, or you can just cool your jets for a minute and let me break everything down for you.
First of all, this is one of GOG's "stacking" deals, which basically means the more games you buy in this collection of 10 titles, the more you'll save. If you only want to buy one D&D game, you'll save yourself 40 percent off of the regular sticker price. Buy two games and that number jumps up to 45 percent off of the total package. Keep going like that and you'll eventually see that getting all 10 games will net you a discount of 80 percent. In other words, you'll get each game for just two bucks a pop. That's $21.10 for the entire package, or a savings of 85 bucks.
This offer is good for the next few days, running out at 9 p.m. (PT) this coming Monday, April 8. If you're gaming on a PC, it's certainly something worth checking out if you're into elves, armor, smiting goblins and the like.
And now, the games!
-Baulder's Gate 2 Complete
-Baulder's Gate: The Original Saga
-Icewind Dale 2 Complete
-Icewind Dale Complete
-Forgotten Realms: Demon Stone
-The Temple of Elemental Evil
-Dungeons and Dragons: Graonshard
-Neverwinter Nights 2: Complete
-Neverwinter Nights: Diamond Edition
-Planescape: Torment
Staff Writer for CinemaBlend.
Your Daily Blend of Entertainment News
Thank you for signing up to CinemaBlend. You will receive a verification email shortly.
There was a problem. Please refresh the page and try again.