This Game Will Make You Never Want To Hitchhike Ever Again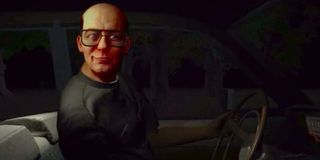 Rides With Strangers is supposed to put you in the passenger seat of a stranger's car, something both equally realistic and terrifying. Though hitchhiking was popular back in the day, nowadays children have been taught to never take a ride with strangers. With the increase of violence and crime, hitchhiking as only been seen as an unnecessary risk. Rides With Strangers is a horrifying adventure into the horrifying risk of hitchhiking in today's society.
Players take the role of Elora. She was on her way to a very critical job interview when her car broke down. Of course, she can't be late for this interview, so she decides to take a stab (pun intended) at hitching a ride. And that's where the the chances of survival or death start to calculate. You can check out the trailer below.
Certainly, as seen from the trailer, the tone of the game is extremely creepy. From dark roadways to a man in a car with slow and careful speech. It's like the opening sequence to a reboot of the series To Catch A Predator. The game is actually being kickstarted with $4,092 raised out of their $25,000 goal and 22 days left to go. While there is supposed to be up to 10 different strangers you will be able to accept rides from, the team has only brainstormed five so far: The Father (the only stranger that is currently designed in-game right now), The Nympho, The Dungeon Master, The Gentleman and the Shidu (whose image has not yet been revealed).
While the concept is pretty unique and intriguing, I feel like it may still be missing something. Maybe some sort of motivation for me to want to play the game, because getting Elora to a job interview isn't as emotionally-connected as, say, rescuing a friend or something. Besides, she's not even dressed for an interview, which makes me think she doesn't care all that much about it. There's just a certain disconnect I'm feeling, but then again, I've hardly seen the game. Maybe there's a deeper story we have yet to discover—and maybe there isn't.
The estimated delivery for Rides With Strangers is June 2017, but nothing has been made official. And that's if it can successfully reach its funding goal. You can check out a game demo that was posted on the Kickstarter below.
Your Daily Blend of Entertainment News