Game Of War Swaps Kate Upton For Mariah Carey As Spokesperson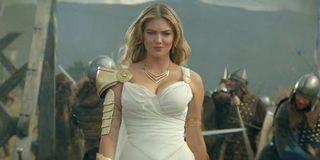 Game of War, the mobile game best known for using Kate Upton in its advertisements, may have a new celebrity spokesperson. A new report says that the developers signed Mariah Carey for future ads.
TMZ says that Game of War makers Machine Zone Games signed a "7 figure" deal with Carey. As part of this deal, she'll film a 30-second commercial among other promotions. Her music will apparently appear in the commercial as well. Y'know, that one song she sings about raising an army and destroying all opposition?
As if signing a Grammy-winning singer wasn't ostentatious enough, TMZ also reports that the commercial featuring Carey will be overseen by Alan Taylor, the director of Terminator: Genisys.
Machine Zone Games is known for being very aggressive with their advertising. They reportedly spent $80 million to run the television ads featuring Upton. Those ads aired approximately 9,000 times on TV.
This strategy has been successful for them. The Upton ads helped make Game of War the second-highest grossing game on the App Store. Thanks to the in-game microtransactions, Game of War was reportedly making about $1.2 million per day as of April. With that kind of success, I'm not surprised they're going to keep spending big money on advertising.
Still, I do wonder what's going to happen when they swap in a different spokesperson. The Game of War ads' success hinged entirely on Kate Upton's sex appeal. People watch this ad 9 million times since February not because the game looks fun (the game doesn't even make an appearance) but because you see Upton take a bath and then put on some really revealing armor:
It's possible that they'll try the same approach with the new ads and put Carey in the boobplate instead of Upton. She's attractive and a bigger celebrity so it could work. I mean, what else are they going to do - tell us about the actual product being advertised? They've landed on a marketing strategy that works so they're going to stick to it as long as it's possible.
Game of War isn't the only mobile game with a huge advertising campaign. Rival game Clash of Clans enlisted Liam Neeson for a fantastic ad that aired during the Super Bowl.
Your Daily Blend of Entertainment News
Staff Writer at CinemaBlend.