New Games Added To Video Chat App, Rounds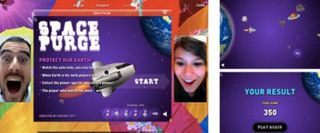 If you're the kind of gamer that lives on stuff like Google Video chat, Skype or the Live Messenger, you might find the Facebook app Rounds to be right up your alley. The service has some additional games added to it enabling you to video chat and play with your friends simultaneously.
Space Purge is the latest game to make the list of playable games via the interactive video app. Basically, gamers can log into the service and connect to or with friends and play some classic as well as new kinds of games from the social-network based service.
Space Purge is basically a social network version of Asteroids just with synchronized video chat capabilities, making it convenient to connect and share experiences with friends while you game. I don't know if that would make the game easier or harder to play, given that Asteroids is one of those games that requires heavy concentration and it seems like seeing your buddy while playing might make it harder to blast those asteroids to smithereens. Then again, maybe looking at your friend's face will incite the Eye of the Tiger and you'll amp up your concentration abilities to protect Earth like it's nobody's business.
Gamers interested in using their spare time to video chat and play with friends at the same time can check out Rounds and some of the available games on the service over at the Official Facebook Page.
Staff Writer at CinemaBlend.
Your Daily Blend of Entertainment News
Thank you for signing up to CinemaBlend. You will receive a verification email shortly.
There was a problem. Please refresh the page and try again.