This Gaming Console Is So Small It Fits In Your Pocket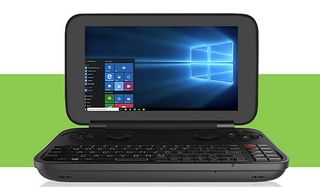 Looking to get in some gaming on the go but aren't a fan of dedicated portable gaming devices? How about a tiny computer that plays games and still fits in your pocket? Because that exactly what the new windows 10 gaming console offers.
It may look like a hopped-up 3DS XL, but this new device from GPD is actually a tiny gaming PC. According to Geek, this thing is set to cost about $500 and offers the ability to pay all sorts of games. At such a small size, it clearly won't be a powerhouse, but if GPD pulls off what it's aiming for, you should be able to play a large selection of games from services like Steam and GOG, as well as stream your Xbox One games directly to the device.
[[ br. br ]] As you can see from the image above, the Window 10 gaming console basically looks like a 3DS with a keyboard. There's even an integrated control pad, complete with a D-pad, thumb sliders, four face buttons and shoulder buttons.
Billed as a "laptop fitting in your pocket" on GPD's Indiegogo page, this little device still has two months left in its backing campaign, though it's already doubled the initial asking goal of $100,000. As of this writing, 705 backers have pledged $211,662 to see the GPD machine (we're sure it'll get an actual name eventually) become a reality.
If you're thinking this sounds like a solid investment, then you'll want to jump on the campaign bandwagon with a quickness. The first 2,000 people to contribute to the GPD project will actually get their machine for $299. After that, the thing is expected to run for $499 once it launches.
All told, the device measures 5.5 inches and is based on the Windows 10 operating system. Though it claims the console will fit in your pocket, just like with the 3DS XL, you'd need some rather large pockets to handle the thing. Still, as far as gaming consoles go, that's super tiny if it actually works as advertised.
The pitch goes on to say that the device will run emulator games, as well as flash games, PC games, Xbox games and Steam games. Again, how well it can run what games remains to be seen. There's also a slot to add a micro SD card, HDMI out, Wi-Fi and Bluetooth 4.0 support and more. The thing runs with 4GB or RAM and has 64 GB of storage with an Atom processor. Again, you won't be running Crysis on this thing, but it should be fine for game streaming or running titles that aren't so demanding.
If you're looking for a similar experience to a 3DS or Vita, but with more PC functionality, it might be something worth looking into. Also, just look at the thing. It's adorable.
Your Daily Blend of Entertainment News
Staff Writer for CinemaBlend.