Garbage Truck Simulator Will Clean Up The Streets Starting May 20th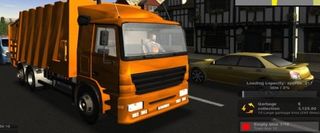 The streets are full of filth and garbage has taken over the civility of modern day society. There's only one hope to bring peace, safety and sanitation back to society and he's called The Garbage Man. Oh wait, I'm getting this confused with a possible B-Movie from the 1980s. Anyway, Excalibur Publishing really is making a game where gamers keep the streets clean by taking out the trash in a title called Garbage Truck Simulator. It's about as dirty as you might be expecting it to be.
As stated in the press release…
As funny as this seems, it's actually real. I kid you not. Players will drive around in their customized garbage truck, picking up trash and keeping the streets clean in order to earn cash and upgrade their garbage collector. Players will also have to keep an eye out for police, because they're not keen on vigilante sanitation workers who speed down the street, taking trash along the way.
I'm hoping this game gets a sequel called Garbage Truck 2: New York City Cleanup or Garbage Truck: L.A. Crackdown, where you have to pick up trashed up pimps and prostitutes from the sidewalk before the kids come home from school, otherwise angry parents will blame the sanitation workers for not keeping the streets safe. Oh, and corrupt politicians are trying to thwart your plans to keep the streets clean by sending crooked cops to chase you out of the neighborhoods. Now that would be awesome.
You can learn more about Garbage Truck Simulator by visiting the Official Website. The game is due out on May 20th for PC.
Image 1 of 7
Your Daily Blend of Entertainment News
Staff Writer at CinemaBlend.