Guild Wars 2 Closed Beta Launches On Friday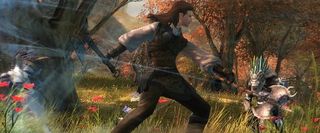 Guild Wars 2 is about to enter a new phase of testing. Developer ArenaNet revealed earlier today that the closed beta for the PC MMORPG will commence on Friday.
"We will officially enter Closed Beta Testing this Friday. It will be marked with an increase in our pool of testers. To clarify, this phase of testing is still under NDA and is not open to the public," said ArenaNet on Reddit. "Based on the feedback we get from our current Closed Beta Testing, we will determine the next phases of our beta program in which we will open beta access to more people."
Here's the twist, though: ArenaNet's not going to tell you how to get into the beta.
"For the sake of clarity: we've talked about closed beta and by that we mean that there is no public information about how to get in, as we're selecting the candidates carefully. We will not reveal any more information apart from what we just said," said community manager Stéphane Lo Presti on the game's fan forums.
Presumably they're picking long-time members of the GW community. Probably wouldn't hurt your chances to at least sign up for the official newsletter through the game's website, though.
GW2 is expected to launch sometime in 2012.
Staff Writer at CinemaBlend.
Your Daily Blend of Entertainment News
Thank you for signing up to CinemaBlend. You will receive a verification email shortly.
There was a problem. Please refresh the page and try again.