Guitar Hero Live Is Putting On The First Curated Music Video Show With A Very Special Guest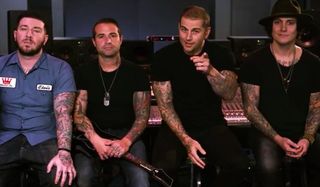 Tomorrow is Christmas Eve, and everyone is bustling around trying to wrap their heads around all of the sales across the video game universe. Meanwhile, their families bake cookies and pies and battle other families with grocery carts to get the best ham. While the world was busy running around like chickens with their heads cut off, Guitar Hero Live announced that legendary rock musicians, Avenged Sevenfold, would be hosting the very first curated music video show. You can watch Avenged Sevenfold announce the big news in the video below.
The show has been titled "A7X Rock Classics" and will feature the band as they choose some of their favorite rock songs from Guitar Hero. These songs will then be playable on Guitar Hero Live. According to iDigitalTimes, the premium GHTV show featuring Avenged Sevenfold will have playable concert footage of the band including the songs, "Shepard of Fire", "Buried Alive" and "Nightmare". M. Shadows, lead singer of Avenged Sevenfold, spoke on the connection drawn between them and the players with the new show.
GHTV brings another level of interaction to the already-interactive Guitar Hero Live which could change the way Guitar Hero games operate in the future. Alongside all of the joyous good news, Activision also announced they would be giving away a ton of merch and signed guitars via social media channels during the airing. Many people on Twitter posted their responses to the news.
Some showed excitement at the thought of Avenged Sevenfold hosting the show.
Others pledged their eternal loyalty to the rock-metal band.
Avenged Sevenfold's song selection includes music from Tenacious D, Deftones, Megadeth and more. Plus, who wouldn't want the band to showcase exclusive footage from their own live performances for Christmas?
GHTV was originally developed to allow users to play songs alongside streaming the music videos. The show with Avenged Sevenfold will give players an opportunity to feel closer to one of their favorite artists while the artist can connect with their fans.
The full schedule can be viewed on GHTV's website.
Your Daily Blend of Entertainment News
Thank you for signing up to CinemaBlend. You will receive a verification email shortly.
There was a problem. Please refresh the page and try again.