Hard Reset: Extended Edition Coming To Retail Thanks To Kalypso Media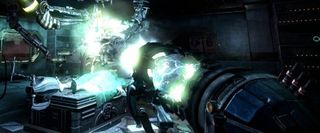 The indie, futuristic, cyber-punk, first-person shooter, Hard Reset, has managed to find an audience on PC. In fact, the game found enough of an audience that Kalypso believes there is more money to be made on the game by putting Hard Reset: Extended Editoin on retail shelves.
I guess this proves piracy isn't all that horrible if a low-budget PC exclusive managed to find success without a huge marketing budget or overbloated advertising. I'm starting to think Ubisoft is just blowing smoke about the whole piracy thing.
Anyway, Simon Hellwig, Global Managing Partner of Kalypso Media commented in the press release, saying...
Hard Reset is one of those first-person shooters that doesn't try to be all Call of Duty-like...instead it aims to recapture the essence of FPS gaming that helped put the genre on the map, such as Doom, Corridor 7, Duke Nukem 3D, Hexen and Quake. Fast-paced combat, sci-fi weapons and wicked-hard bosses help round out the experience.
A complete list of the game's features can be viewed below. For now, Kalypso Media is publishing the game in European territories and Hard Reset: Extended Edition will become available starting in March. For more info feel free to visit the Official Website.
Features of Hard Reset: Extended Edition include
• A fast-paced, "old school" styled FPS
• Experience-based weapons upgrade system
• Five new levels (adding approximate two hours of gameplay to the original game)
• Four new enemies, one new boss character
• Updated graphics engine
• Additional gameplay elements
• New back-story
• Two new levels for survival mode
Staff Writer at CinemaBlend.
Your Daily Blend of Entertainment News
Thank you for signing up to CinemaBlend. You will receive a verification email shortly.
There was a problem. Please refresh the page and try again.