Here's How You Can Sneak Around Just Like Metal Gear Solid V's Venom Snake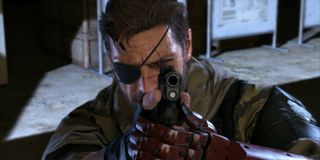 Looking to cosplay as Metal Gear Solid V: The Phantom Pain's Venom Snake soon but can't find the right footwear? Puma's got you covered.
GameSpot reports that Puma has collaborated with the mysterious and prodigious Metal Gear creator Hideo Kojima on a special pair of Phantom Pain-inspired "sneaking boots" that you can actually wear out in real life. They even come paired with a special set of leggings like you see on Venom Snake in Metal Gear Solid V: The Phantom Pain.
Kojima himself tweeted a photo of the boots and showcased them to adoring fans, who'd pay just about any amount of money to wear the same type of clothing Snake himself wears, no matter the cost. The box looks great!
The long shot of the boots themselves make them look awesome, too.
During his time on Twitter, however, Kojima didn't bother to drop any details about how one would go about preordering or purchasing these boots, how much they are, and where they'll be available. Knowing special edition Metal Gear merchandise, they'll probably be extremely rare and/or extremely pricey.
This isn't the first time Konami and Puma have joined together, however. The teams have collaborated previously and Konami is selling Metal Gear merchandise through its special online store. These are some interesting items to snap up, however, especially considering the recent debacle over Kojima's name having been removed from Metal Gear Solid V: The Phantom Pain's box and other marketing materials.
If you're a fan of collectible video game promotional merchandise and awesome boots, you're going to want to keep an eye out for details on these.
Your Daily Blend of Entertainment News
Thank you for signing up to CinemaBlend. You will receive a verification email shortly.
There was a problem. Please refresh the page and try again.