Here's Why Players Can No Longer Use Modded Weapon Skins In CS:GO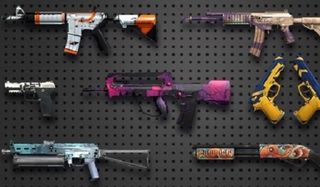 It's not a common occurrence that Valve takes action against mods to its games, but that's exactly what's happening with Counter-Strike: Global Offensive. In fact, they're basically whipping out the ban hammer for folks who create servers that allow players to use custom skins for their various weapons.
Valve made the announcement official heading into the weekend, and it's causing quite a few Counter-Strike fans to call foul. As Valve states in the announcement, however, they gave players plenty of warning before finally taking action.
Said warnings rolled out as early as July of 2015. The Counter-Strike: Global Offensive team notified the community that operators who created servers that "falsify the contents of a player's profile or inventory" would be punished.
The statement then goes into great detail why these actions are harmful to the game, as well as what the punishment for continuing to create these kinds of servers would be. While Valve is typically on-board with mods (Since, you know, the original Counter-Strike is itself a mod), the developer said that creating these kinds of servers cause harm to the game's ecosystem.
For starters, the in-game skins come in pretty much two flavors. There are those you get for achieving certain goals, and those you can buy from the store. If you come across someone in an online match, a quick glimpse at their loadout tells you their story. You know what major accomplishments they've made, and you'll probably recognize the skins they paid real world money for. In the case of the former, the skins you don are a status symbol of sorts, which serve as one of those carrots on a stick meant to keep players coming back for more.
Folks creating servers that allow for custom skins are throwing that system right out the window. If you see someone with a rad skin on these servers, it's likely a mod that they plugged into the game or even purchased from another player, which in affect takes money out of Valve's pocket for cosmetic items.
Fans are upset because these servers are not competitive and, thus, have no impact on that main ecosystem of the game. Honestly, if it wasn't for the fact that folks have been charging for these skins and servers, I'm not sure there would even be a problem.
However, despite many warnings, some folks continued to use the mods and servers and Valve has finally taken action. According to the statement, the team permanently disabled Game Server Login Tokens (used to create these kinds of servers) for folks who created servers that offered free or paid content that "falsified" players' profiles. Folks who generated tokens tied to those servers were also permanently restricted from creating new tokens.
That's certainly not an issue they have to deal with for games like Call of Duty or Battlefield, so this is some new territory for FPS fans to navigate. Let us know your take in the comments below.
Your Daily Blend of Entertainment News
Staff Writer for CinemaBlend.