Hidden Dawn: A Rare Third-Person Adventure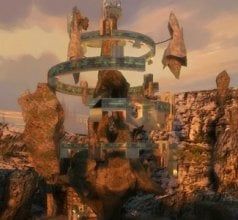 Due out in the third quarter of 2009, Hidden Dawn is an action-adventure, third-person puzzle solving, mystery magic game. Yep, that's the coolest description for a game yet. E-One Studios recently announced that they're working on the game and they even released a few screenshots to go along with the news.
The Malaysian-based developers are hard at work on fine-tuning the gameplay mechanics for this very interesting title. In the press release, the game could be… "loosely described as a fantasy adventure to 'save the world', Hidden Dawn attempts to touch sparingly on several concepts such as redemption, sacrifice, family, self-limitation, internal conflict, vengeance, social awareness, independence and overcoming tribulations."
The game features four playable characters, including the main character, Heru. She's described as being an average citizen that gamers can identify with while they explore, battle and puzzle-solve their way to victory and peace. There's a number of continents to visit, a varied and unique world designed for the effect mystical immersion and lots of magical abilities to perfect and use.
There's tons more to this game than what can fit within this news post (remember folks, this isn't a preview, we're just informing you that the game is in the making.) We'll keep you posted on updates and news regarding Hidden Dawn, until then be sure to stay tuned in with Blend Games for more news and info regarding all things gaming.
Image 1 of 11