How You Can Take Part In The "Grab All You Can" 3-Minute Steam Speedrun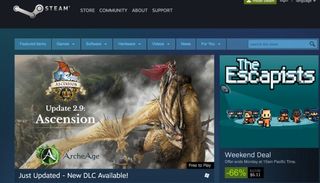 When we say this is a huge deal, we mean it's a huge deal. Fans have been losing their minds over the "Steam Speedrun," which means fans who enter the speedrun have three minutes to buy as many games as they can get their hands on before time runs out—with someone else's money.
But in order to enter the speedrun, you need to do a couple things first. Record a brief video (10 seconds or longer) on what you'd do with three minutes of infinite money on Steam and then share it on Twitter using the #pcgamingshow hashtag, follow PC Gamer's Twitter page and make yourself available for the show on June 13. If you've met all of that criteria, all you have to do now is wait.
The contest from PC Gamer began on June 1 and will keep accepting entries until June 8.
Surprisingly enough, many fans don't seem to be following the entry requirements to be considered for the content. For example, one Twitter user just stated his reasoning in his Tweet while posting a GIF.
And another user claimed he didn't need a video the show how obsessed he or she was with Steam.
After trying to search under the hashtag, it doesn't look like many entries have seriously been sent it, so this could either be a good thing or a bad thing. Good for other more serious users and bad for PC Gamer.
If you're still interested in entering PC Gamer's Steam Speedrun contest, you can send in your entry sometime before June 8, following the steps above. For more information and the full set of rules, check out PC Gamer's website.
Your Daily Blend of Entertainment News