IL-2 Sturmovik: Battle Of Stalingrad Pre-Orders Earn Early Access To Game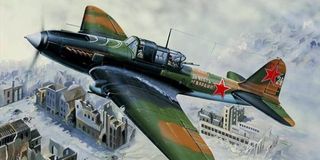 Strap on your leather cap and aviators, it's almost time to take to the sky and experience the biggest air battles of World War II as IL-2 Sturmovik: Battle of Stalingrad preps for takeoff with Standard and Premium pre-order options.
1C Game Studios is back behind the yoke with yet another air combat simulator, continuing the developer's 10-plus-year-long journey to bring realistic sky battles to the PC, this time packing in even more physics modeling, damage modeling and aerodynamics to create their most realistic aerial combat title to date, according to Executive Producer Jason Williams.
"Flight simulation games are a product of love and dedication of their development team, often it takes a lot more of both than people realize," Williams said. "There is always more than can be done, from new planes to better ground details. We want to be able to add that extra care while also allowing our closest fans to become part of the beta team this summer, simply by placing a pre-order."
Williams went on to say that their fans get to help craft the game they want to play which will, in turn, allow the team to more quickly get to work on additional features.
"In the end, giving back when people show their faith in us just seems like the right thing to do," Williams concluded.
IL-2 Sturmovik: Battle of Stalingrad will offer both a single player campaign and online multiplayer shootouts. Missions will range from short and sweet to massive air battles, taking place over the largest and most detailed recreated landscapes to ever grace the series.
The developers used original blueprints and drawings to faithfully recreate each of the game's aircrafts, as well as the buildings and structures that litter the landscape.
When it launches, Battle of Stalingrad will feature in-game achievements, unlockcable plandes, mods and upgrades, as well as global statistics and leaderboards.
But you don't have to wait until the PC launch to get in on all of that action. IC Game Studios has announced two versions of the game will be available, including the Standard edition ($49.99) and the Premium edition ($89.99). Standard buyers will gain early access to the game this winter while Premium buyers will be able to take to the sky sometime this fall.
Both levels of entry will also earn players a "Founder's Tag" to display in the community furum, as well as a special label next to their name in online modes. Both tiers will also gain access to a special collection of six aircraft with the Premium buys earning an additional two.
Finally, the game will have a "gift" system that will allow virtual pilots to activate one copy of the game on their own account, as well as send others to friends.
Look for IL-2 Sturmovik: Battle of Stalingrad to take off next year or, if you pre-order the game, get ready to play even earlier than that.
Staff Writer for CinemaBlend.
Your Daily Blend of Entertainment News
Thank you for signing up to CinemaBlend. You will receive a verification email shortly.
There was a problem. Please refresh the page and try again.