Intel And Ubisoft Are Giving Away Far Cry 2 And Intel i7 Processors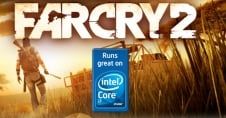 Seems like the freebies never stop here at Blend Games, and while we aren't the ones giving the headlined items away, we are the middlemen that work as the gateway to some happy gamer's dreams. In this instance, said dreams include a free copy of Far Cry 2 (as if we hadn't been giving enough copies of Far Cry 2 away here already) and a free i7 Processor.
In actuality, 50 entrants will win a free copy of Far Cry 2 and each day, from December 1st to the 30th, participants could win a free Intel i7 Processor. Not a bad giveaway, if you ask me. The reason for this giveaway is to help propel the launch of the new Intel i7 Processor, optimized for gaming. I'm still not exactly sure how Ubisoft got attached to Intel during the whole giveaway contest thing, but is it really necessary to complain when free gaming gear is up for grabs? No, it's not necessary.
I'm sure you overly-eager gamers are awaiting the link so you can go ahead and click-through to the entry form, eh? Well, if you want to participate in the giveaway you just have to visit the Official Intel And Ubisoft Far Cry 2 And i7 Processor Giveaway Website. And as usual, you can also rely on Blend Games for updates and news regarding the latest happenings in the gaming industry.
Staff Writer at CinemaBlend.
Your Daily Blend of Entertainment News
Thank you for signing up to CinemaBlend. You will receive a verification email shortly.
There was a problem. Please refresh the page and try again.