Ironman: The Game, Gameplay Footage And Concept Art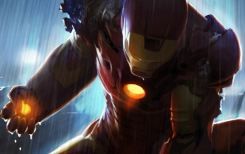 Mr. Red and Yellow finally makes a return to gaming. Next to Captain America, Cyclops, Venom and Blade, Iron Man was definitely up there as being one of my possible favorites. With the exception of the questionable logic behind an iron suit being able to fly, the new Iron Man game might contain some reasonable elements for a good story and great gameplay...hopefully.
With the rights now passed on to Sega, a movie in the works and the waning tide of super-hero popularity at the movies...there's a lot riding on this new venture of Iron Man's return to gaming. Luckily, Sega seems to be doing a fairly decent job at making sure the game layered with gameplay elements and endowed with equally fetching graphics.
Below you can check out a brand new interview that GameTrailers conducted with Sega regarding the game, as well as some exclusive new concept art of Iron Man. The game expected to be released around the same time as the movie (i.e., Spring 2008) for the Xbox 360, PlayStation 3, PC, Wii, PS2 and PSP. My only concern for this game is that too much movie-orientation could easily lead by the wayside with the rest of movie LP trash. Hopefully, though, I'm wrong.
Staff Writer at CinemaBlend.
Your Daily Blend of Entertainment News
Thank you for signing up to CinemaBlend. You will receive a verification email shortly.
There was a problem. Please refresh the page and try again.