Jagged Alliance: Flashback Gets Help From Modders, Original Designer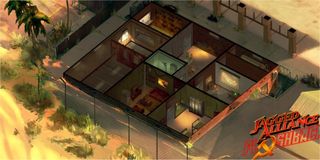 One of the original lead designers from the first Jagged Alliance games, and the never-finished Jagged Alliance 3, Chris Camfield, has officially joined the advisory board for Full Control's prequel game, Jagged Alliance: Flashback.
Don't think that all the hard work is done and over with, the team is still ramping up support and they're just past the halfway mark at $150,000 out of $350,000 in total Kickstarter funds.
In addition to getting Camfield on board, the team has also acquired the services of a team of modders to help implement some of the modding features for the upcoming game.
Thomas Hentschel Lund, CEO of Full Control, commented in the press release about the news, saying...
Well, let's hope that this campaign for Jagged Alliance actually gets off the ground right and can secure all its funding. Unlike its popular rival, X-Com, Jagged Alliance hasn't been able to get a proper revival yet, and it's such a shame because it was one of the best (if not the best) turn-based strategy game during the 1990s.
You can learn more about Jagged Alliance: Flashback or contribute to the cause by paying a visit to the game's official Kickstarter page. Also, for those who pledge their support to Flashback, you'll be entitled to receive DRM-free versions of the classic Jagged Alliance titles.
Your Daily Blend of Entertainment News
Staff Writer at CinemaBlend.
Your Daily Blend of Entertainment News
Thank you for signing up to CinemaBlend. You will receive a verification email shortly.
There was a problem. Please refresh the page and try again.