Joymax Shutting Down Karma Online July 17th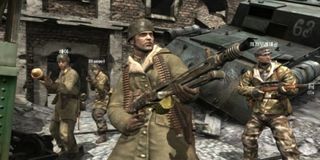 After a year of rocky service, few updates and the removal of a lot of what made the original Karma: Operation Barbarossa such a fun game, Joymax has decided that it wasn't worth the time or the effort to turn their rendition into a play-worthy rendition, hence they're shutting down the game for good.
Starting July 17th, 2012, Joymax has announced that the service for their version of the free-to-play, World War II zombie-FPS, Karma Online, will cease to operate.
According to the official service closure announcement...
The original Karma stayed in CBT for just about forever under the ijji Games label from NHN Corp, which was later bought out by the growing corporate megalith known as Aeria Games. The problem is that Karma never made it anywhere under the ijji Games license and despite being a bucket-load of fun, the company just didn't do anything with it.
Last year Joymax announced that they would bring back Karma Online but in doing so they decided to make the experience more casual. The gameplay was sped up significantly, weapon-balance was thrown down the gutter, and essentially they turned the WWII shooter into another fast-paced Call of Duty clone, stripping away EVERYTHING that made the original fun. Unsurprisingly enough, after a year of poor service and "Me Too" gameplay, Karma is coming to an unfortunate end...again.
It just goes to show you that just because a game goes free-to-play doesn't mean it's going to survive or make lots of money. As more announcements pop up for service closures, I wonder if it will make larger publishers slightly more wary of throwing free-to-play games out there a dime a dozen?
You can learn more about the service shutdown announcement by visiting the Official Website.
Staff Writer at CinemaBlend.
Your Daily Blend of Entertainment News
Thank you for signing up to CinemaBlend. You will receive a verification email shortly.
There was a problem. Please refresh the page and try again.