Knight Age Gets Details For Upcoming Secret Events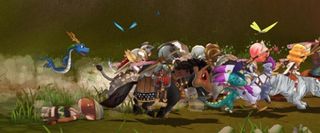 Remind me to never confide anything in Knight Age developer/publisher, Joymax. They've got a few "secret events" planned for the coming weeks but, rather than keeping said events a "secret," they've decided to spill the beans entirely. Knight Age players will want to pay attention, unless they actually want to be surprised once the not-so-secret events go live tomorrow.
Knight Ageis a cute and cartoony mounted combat MMORPG, letting players quest and take on monsters from astride various fantasy creatures. Starting tomorrow, Jan. 15, a few special events will be hosted across the game's magical world, giving players a chance to earn some spiffy loot.
First up is the "Search for the Hidden Boss Pupa Egg" event. The Boss Pupa Egg is a very rare drop that can usually only be obtained by defeating said Boss Pupa. Starting tomorrow and running daily for a limited time, however, random Boss Pupa Eggs will be placed across the field in Grey Shores of Oblivion. They'll be first come, first serve and, once all of a day's eggs have been located, they're gone for good.
Next up is the "Hunt Down Helpache with GM" event. For an hour a day, the legendary GM will be available to join heroes and assist in their battle against the massive and deadly Helpache. There's even an opportunity for those who manage to capture a screenshot of their character battling alongside the GM to earn additional prizes.
Finally, there's the "Display of Guilds" contest. Players can either create an original piece of artwork or take a group shot with their guild in-game. Those pictures can then be posted to the Knight Age Facebook page, where a winning guild will be selected to earn a bunch of coins and additional items.
For more information on Knight Age visit the game's official website. And if you hurry up and register to play, you can take part in these "secret" events starting tomorrow.
Staff Writer for CinemaBlend.
Your Daily Blend of Entertainment News
Thank you for signing up to CinemaBlend. You will receive a verification email shortly.
There was a problem. Please refresh the page and try again.