KnightAge Online Offers Week-Long Beta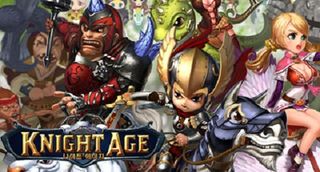 Strap on your armor, grab your saddle and pick up your favorite lance, because it's time to go to war as Joymax announces the impending open beta of its latest mounted-combat MMORPG, KnightAge Online.
With KnightAge planned for a fall PC launch, Joymax is pulling back the curtain on this unique online game, letting everyone sign up for the closed beta running from July 10 through July 17. Joymax states through press release that this is a closed beta, yet it "will be open to all users via the Joymax portal." So, basically, it sounds like all you have to do to get in is sign up on their website. Which website, you might ask? This one right here. Once you register, you should be good to go once the beta kicks off next week.
In KnightAge, players create their own character, manage their equipment and abilities, and choose the mount they wish to ride into battle. Each mount grants a unique ability, so part of the fun is deciding which fantasy creature you want to rely on in the thick of battle.
Players will also be able to raise a pet, called a "Pupa," to help them in combat. There will be more than 20 different Pupa's and players will be able to mix and match any two, creating new and more advanced allies. Joymax states that it's "up to the player to create the ultimate Pupa." Yes, I'm being juvenile, but you'll have to excuse me for a moment while I fight back a wicked bout of snickering.
KnightAge Online will feature PvP combat pitting teams of 50 against one another, or even a 1 versus 100 battle for Excalibur. Guilds will be able to fight in a group and, if they manage to claim and defend a castle, they'll earn additional in-game bonuses.
Sound like a blasty-blast? Then hit that link up above and get yourself registered. Otherwise, more info can be found on the KnightAge Online Facebook page.
Your Daily Blend of Entertainment News
Staff Writer for CinemaBlend.
Your Daily Blend of Entertainment News
Thank you for signing up to CinemaBlend. You will receive a verification email shortly.
There was a problem. Please refresh the page and try again.