League Of Legends Email Verification Begins, Summoner Name Cleanup On The Way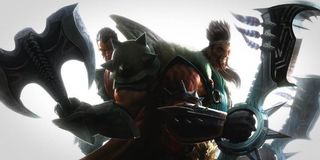 Riot has announced a couple features to help out League of Legends players. Thanks to these changes, summoners can better secure their accounts or get the name they always wanted.
LoL players can set up a verified email address by signing into leagueoflegends.com and following the prompts. After that's done, the player will get email messages when any account information is changed.
"Baddies won't be able to change a single credential on your account without also having access to your verified email account," Riot says. "This is just a first step - we're looking into many more security features to keep your account details safe like SMS protection and more, so stay tuned."
Riot is offering some extra incentive for players to verify their email addresses. Anyone who sets up this feature will get an Influence Points boost for their next four wins.
The studio realizes that some players don't care about their account security or IP, though, because they're not even playing anymore. Inactive players will now be in danger of losing their summoner names if they haven't logged in. The new automated account cleanup will give players at least six months to log back in. The exact length of the grace period depends on their level:
Levels 1-6: 6 months of inactivity immunity
Level 12: 1 year of immunity
Level 20: 1 year, 8 months of immunity
Level 30: 2 years, 6 months of immunity
When inactive immunity runs out, the summoner name will be available for other players who want to change their name. Summoner Name Changes are purchasable through the in-game store for 13,900 IP. New players won't be able to take the names of inactive players, though.
"This ensures the name will be used by an active player and not someone who decided they absolutely need Trevor, 7revor, and Tr3v0r Tha 5hr3dder. It happens more often than you'd think."
If a player returns after a long absence to find someone has claimed their summoner name, they'll be prompted to choose a new one. Stats and premium content will carry over to the new name they choose.
Once again, Riot is offering a special deal to jump-start this feature. Players who purchase their name change with RP will be able to do so for half the normal price. This discount will run from January 14th until January 28th.
The new changes come as Riot prepares for Season 4 of the League Championship Series. Top teams of LoL players from throughout the world will compete on a weekly basis for a chance to advance to the World Championship in South Korea. Last year's championship was watched by over 32 million people.
Your Daily Blend of Entertainment News
Staff Writer at CinemaBlend.
Your Daily Blend of Entertainment News
Thank you for signing up to CinemaBlend. You will receive a verification email shortly.
There was a problem. Please refresh the page and try again.