Leaked Information Reveals When Steam's Summer Sale Is Happening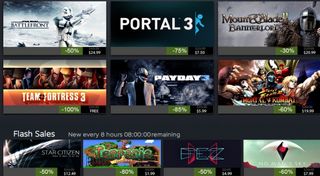 It appears to have become tradition lately for someone to leak the start date for the Steam Summer Sale. This has happened for the last few Steam sales over the past couple of years. Based on the information leaked this time around, the Summer Sale will commence on June 23 and run through July 4.
Gamespot picked up the news from a post on Reddit by MrFreemanBBQ, a handle that obviously alludes to Valve's Gordon Freeman from the Half-Life series. This user has purportedly been reliable in their past leaks, so many within the Reddit community are trusting that the image leaked that reveals the June 23rd start date is legitimate.
The image comes from a confidential e-mail that Valve sent out to developers to inform them about setting up and organizing their sales using the developer tools for their game. The image's use of the Cyrillic alphabet seems to indicate that the e-mail that was leaked was sent to a Russian developer. So that kind of narrows down where it might have come from.
I'm sure if more people put their minds to it, they could easily discover exactly who the original leaker was of the e-mail that reveals the start date for the Steam Summer Sale.
Gamespot, however, was more inclined to question whether or not this upcoming sale would feature a mini-game like in the last Steam Winter Sale. In that Sale there was a clicker game that players could participate in to unlock discounts and bonus sales for games on the Steam store.
The most memorable thing about the Steam Winter Sale was the scavenge hunt that some Steam Detectives went on, as they tried piecing together clues and bizarre, hidden hints left by Steam staff throughout the Winter Sale. This led many to believe there was some kind of bread crumb trail leading toward an announcement for Half-Life 3. I know it sounds bizarre but the clues left behind and the trail seemed extremely convincing. However, it turns out that Valve was just having fun at the community's expense with yet another Half-Life 3 troll. The internet was on the verge of exploding over the news, but as always... Half-Life 3 was not confirmed.
It's unlikely that anything huge will be uncovered during the Steam Summer Sale, but with the constantly expanding library of games on Steam, I'm sure gamers will find something that they want at a discounted rate. With the inclusion of the refund system the sales haven't been quite as steep as they were before, but at least gamers no longer have to worry about ending up with a broken game that they don't want.
Already there are likely going to be some games that will sell like crazy during the Summer Sale. Titles like DOOM will probably be a high priority for many PC gamers (assuming they haven't already picked up a copy). Other games like Mad Max might be worth it, along with Call of Duty: Black Ops III and Trackmania Turbo. If MrFreemanBBQ's leak proves to be true, you can expect to binge on the discounts starting June 23 next month.
Staff Writer at CinemaBlend.
Your Daily Blend of Entertainment News
Thank you for signing up to CinemaBlend. You will receive a verification email shortly.
There was a problem. Please refresh the page and try again.