Logitech Created An Amazing LED Keyboard Lights Display At PAX East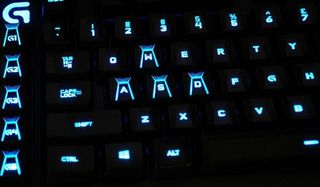 What's the point of manufacturing a bunch of light-up keyboards if you aren't going to put on a wicked light display? That seems to have been Logitech's thinking, as the manufacturer has brought a wall of lights to PAX East this year, bolting together dozens of keyboards in order to put on a fun animated presentation.
The folks over at Gamers Nexus put together the above video looking at a rather impressive display constructed by Logitech at this weekend's PAX event in Boston. In short, loads of light-up keyboards were networked together and turned into a trippy art installation that, all told, included 18,400 keyboard LEDs. In case you've got a bunch of old light-up keyboards lying around and can't decide what to do with them, we suppose you now have a project to keep you busy through the weekend.
What we find most impressive is that Logitech didn't simply have the keyboards light up in pretty colors like some sort of massive music visualizer. Instead, they've go all sorts of nifty images shooting about, showing off the versatility and color range of modern LED keyboards.
According to the original coverage, the Logitech team grew up playing classic video games and, given the functionality of their newest keyboard models, decided it would be cool to link them all up and program a demonstration that harkens back to classic video games. The effect is pretty impressive, as the keyboards pull off the simple animations of the NES or arcade cabinets pretty well.
All told, the wall is made up of 160 keyboards with the keys laser etched so more light could bleed through and fill up the negative space. The effect is that every key is basically used as a pixel and, thus, you've got yourself a perfect display for some old-school inspired gaming art.
In the display, a couple of youngsters that almost look like Earthbound extras are walking through a platforming game world. Their quiet day is ruined when an alien kidnaps one of the kids and takes off into space. The other kid follows in a ship of their own, at which point the game turns into a horizontal shooter reminiscent of classic bullet hell games. The whole thing ends with a boss fight and the kids returning to their quiet afternoon.
And in case you want to own a bright and shiny keyboard of your own, the model on display is Logitech's new G810 RGB mechanical keyboard. And if you happen to be at PAX East, you can actually buy one right there on the showroom floor.
Staff Writer for CinemaBlend.
Your Daily Blend of Entertainment News
Thank you for signing up to CinemaBlend. You will receive a verification email shortly.
There was a problem. Please refresh the page and try again.