The Madden Cover Curse Strikes Again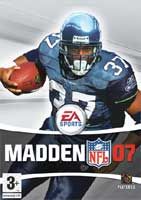 The Madden cover curse strikes again! Ever since 2000's release of EA Sports' Madden NFL video games, the star NFL player on the cover has had something go wrong with them and their team that season. This year is no different. Seattle Seahawks' star running back and 2007 Madden coverboy Shaun Alexander has broken a bone in his foot. He'll be out at least two weeks, probably longer. Alexander was pivotal to the team last year, and this jeopardizes the Seahawks chances of repeating last year's stellar season.
While this only tangentially has an impact upon video games, it is morbidly funny to see how this "curse" takes effect. While the Madden games themselves have been great, one has to wonder when it'll come time for EA to stop throwing money at NFL players to be on their game's cover, unless they offer a good insurance policy along with it. As a Giants/Jets fan, I really don't want to see Tiki Barber or Chad Pennington on the cover any time soon.
Here's a rundown of all the Madden covers since 2000, and what's happened to the players (and their team) who's been on the cover (keep in mind that the dates are for the year the game comes in, not their actual game number, which is the following year):
2001: Eddie George (Titans): suffered leg injuries during the 2001 season, and the Titans missed the playoffs.
2002: Daunte Culpepper (Vikings): had a subpar and disappointing season in 2002 compared to his previous one..
2003: Marshall Faulk (Rams)- after appearing on the cover, he injured his ankle, had his first under-1,000 yards rushing season, and hasn't reached that 1,000 yard plateau since.
2004: Michael Vick (Falcons)- breaks his leg in preseason, only plays 5 games in the season, and his team finishes out of the playoffs
2005: Ray Lewis (Ravens): Team misses playoffs.
2006: Donovan McNabb (Eagles): has a sports hernia, gets surgery and misses most of the season. The Eagles miss the playoffs.
2007: Shaun Alexander (Seahawks): breaks his foot early in the season.
Your Daily Blend of Entertainment News
Thank you for signing up to CinemaBlend. You will receive a verification email shortly.
There was a problem. Please refresh the page and try again.