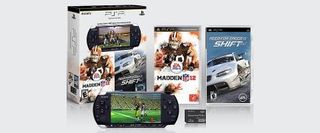 Sony is preparing to release a PSP Entertainment Pack to cater to sport fans. The new bundle, which includes a copy of Madden NFL 12, will be released in North America this month.
In addition to Madden 12, the bundle will include a black PSP-3000, a 2GB Memory Stick PRO Duo, and a copy of Need for Speed SHIFT. The Entertainment Pack will retail for $159.99. You'll be able to find it at retailers throughout the country.
As I said when they announced that Gran Turismo/MLB 11 Entertainment Pack this Spring, I'm really glad Sony is sticking with two game bundles. It's a much better value for gamers than giving them one game and then a movie on UMD. In the age of streaming Netflix and Blu-ray discs, the UMD didn't have a chance as an enduring format.
It's a good idea for Sony to release a bundle for the PSP this holiday season, too. These next few months are really the last hurrah for the PSP. Its successor, the PlayStation Vita will be out early next year. Furthermore, the delay to the Vita means that the 3DS has less competition during the holiday season. A PSP Entertainment Pack is a way for Sony to at least make an effort to cut into the 3DS' sales.
The Entertainment Pack will arrive on August 30th. A larger picture of the collection is below.
Image 1 of 1
Your Daily Blend of Entertainment News
Staff Writer at CinemaBlend.