Mass Effect Infiltrator Screenshots Look Surprisingly Good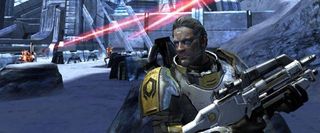 Yesterday EA announced Mass Effect Infiltrator for iOS devices. Today they followed up with three screenshots of the game and it looks a helluva lot better than Mass Effect Galaxy.
Galaxy, BioWare's previous iOS outing, was a top-down shooter with very underwhelming visuals. Infiltrator, however, is third-person shooter that doesn't look that far off from a normal Mass Effect game. It might be using Unreal Engine 3, the same tech powering the PC/console installments in the series.
In Mass Effect Infiltrator, players assault a Cerberus base. They have two primary objectives: rescue prisoners and recover evidence of Cerberus' crimes. In doing so, players will unlock weaponry for Mass Effect 3.
Infiltrator, like Mass Effect 3's co-op, will give you an opportunity to boost your Galactic Readiness in the single-player campaign. Galactic Readiness determines the quality of the game's ending. BioWare has stressed that you can get the best ending in the game without playing Infiltrator or co-op, though.
BioWare will release Infiltrator through the App Store soon. There's no mention of an Android release.
Image 1 of 3
Image 2 of 3
Image 3 of 3
Staff Writer at CinemaBlend.
Your Daily Blend of Entertainment News
Thank you for signing up to CinemaBlend. You will receive a verification email shortly.
There was a problem. Please refresh the page and try again.