Microsoft Flight Will Be Free To Play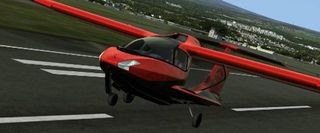 Today Microsoft announced new details on Microsoft Flight, the successor to the Flight Simulator series. Flight will be released this spring as a free download.
Flight is intended to be a simulator for novices, experts, and everyone in between. You can control the plane from an exterior view or from the cockpit. The complexity of the controls can be tailored to your skill level.
The free download of Flight will allow you to fly above the Big Island of Hawaii in the ICON A5, a monoplane that will enter real world production in 2012. Signing into your Games for Windows - LIVE account will give you access to more freebies, such as the Boeing Stearman biplane, Achievements, and new missions. Microsoft will release daily aerocache challenges and updates as well.
The game will also feature premium content. Players will be able to buy new aircraft, regions, and customization options. Exact pricing wasn't mentioned.
Accompanying today's news was a new trailer and screenshots of the Stearman and ICON.
Staff Writer at CinemaBlend.
Your Daily Blend of Entertainment News
Thank you for signing up to CinemaBlend. You will receive a verification email shortly.
There was a problem. Please refresh the page and try again.