Midnight Mansion HD Hits Windows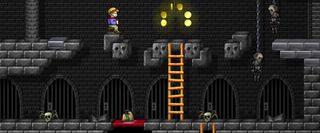 Action Soft has brought their 2D platformer Midnight Mansion HD to Windows. This family-friendly game lets players of all ages explore dangerous mansions in order to find a legendary treasure.
In your quest, you'll dodge laser beams, monsters and other hazards. There are eleven mansions to explore in total. The game features leaderboards and a level editor, among other things.
The game is free to try. The full version costs $16.99. You can also purchase the first and second halves of the game for $7.99 and $9.99, respectively.
Mansion was previously released for MacOS X. If you buy a registration code for the Windows version, it will work on the Mac as well.
Staff Writer at CinemaBlend.
Your Daily Blend of Entertainment News
Thank you for signing up to CinemaBlend. You will receive a verification email shortly.
There was a problem. Please refresh the page and try again.