Minecraft Realms Arrives In North America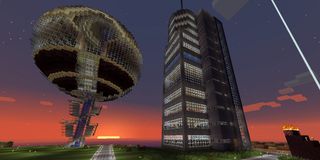 It just became a lot easier for Minecraft players to host their own servers. Mojang has launched Minecraft Realms in North America.
"Realms is the easiest way for you to host a Minecraft world online," Mojang explains on their blog. "You and your friends can work on an awesome creation, adventure into the depths, or play one of our featured mini-games with just a few clicks."
"The servers are always available, and can be restored to an earlier point if something goes wrong. Realms is run by Mojang and simple to set up."
The Realms servers are suited toward players who want a small home for their friends or family. You can invite up to 20 players to the Realm server through the Minecraft client. Ten can play at the same time. Only invited players can join the server and they can be removed by the host easily.
Realms servers cost $13 per month to rent. However, you can purchase three-month or six-month subscriptions to get a discounted rate.
There are some important restrictions to be aware of before you rent a server, though. While Realms worlds can be as large as you want, they don't support mods or texture packs. You have to be running the most recent version of Minecraft, and Snapshot versions aren't supported. While you can export your map from Realms, you won't be able to import one from elsewhere.
Lastly, you can't use Command Blocks. That will prevent you from making insane contraptions like an in-game 3D printer:
Realms can only be used for the PC version of Minecraft. Mojang says that they're going to release the feature for other platforms eventually, though. They didn't specify which platforms but we do know that they're testing the feature for the Pocket Edition.
Mojang also offers Minecraft Realms in the following countries: Belgium, Bulgaria, Canada, Croatia, Denmark, Estonia, Finland, Great Britain, Greece, Greenland, Hungary, Iceland, Ireland, Israel, Latvia, Lithuania, Luxembourg, Malta, Mexico, North America, Norway, Romania, Slovakia, Slovenia, South Africa, Sweden, The Åland Islands, The Cayman Islands, The Faroe Islands, The Isle of Man, The Netherlands, The United Kingdom, and The United Arab Emirates.
Your Daily Blend of Entertainment News
Staff Writer at CinemaBlend.