Mortal Online, One Of The Worst MMOs Ever Offers Up Free Game Time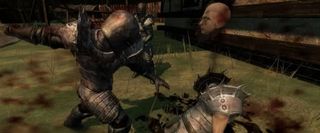 When I originally reviewed Mortal Online several years ago, I called it one of the worst MMOs ever. It was labeled as such with good reasoning. The concept of the game was cool and pretty much Skyrim meets DayZ, but its execution was unfortunately riddled with double the amount of bugs and glitches from both games. Well, today, Star Vault is announcing that one week of free game time is available for the Unreal Engine powered MMO, Mortal Online, for both current and past users.
While it's not necessarily embracing the free-to-play model that's been spreading through the online gaming sphere like a bad STD through Motley Crue groupies, Star Vault is using the whole "free" gimmick as a way to pull in gamers for some open-world MMO adventuring.
Now, you're probably wondering exactly why this game was labeled as one of the worst ever, well at the time it was unpolished, glitchy, poorly optimized, lacked proper in-game help and mostly left a lot of new players up to the naked trolls who ventured throughout the world looting and killing any and everyone. Yes, it was a free-for-all survival game, and while that sounds cool on paper its execution was about on par to a joint sci-fi blaxploitation crossover between Syfy and BET.
Oh yeah, and then there was the whole thing of getting killed by naked dudes with their schlongs hanging out and then getting tea-bagged in the face. It's like face-rape in first person...literally.
Anyway, Mortal Online's basic premise had tons of potential and after the review I never touched the game again. According to many fanboys and forum goers, Star Vault has elevated Mortal Online to whole new heights, fixing many of the compatibility issues, the graphics optimization and the bugs and glitches that riddled the experience.
New content has also been unveiled for the game in the form of an expansion pack called Awakening, which introduced the new city of Tindrem, a brand new capital city of the emperor. New loot, new weapons, new quests, new customization, new enemies and better AI path-finding has been implemented.
If you don't mind Age of Conan quality graphics, Skyrim style exploration and open-world interactivity and DayZ's tension-ridden gameplay, then Mortal Online might be right up your alley. Just be warned, the game was a massive mess when it originally launched but given several years worth of patches maybe the face-raping isn't all that bad anymore.
You can learn more about Mortal Online by visiting the Official Website.
Your Daily Blend of Entertainment News
Staff Writer at CinemaBlend.