The Most Realistic FPS Ever Gameplay Trailer Released?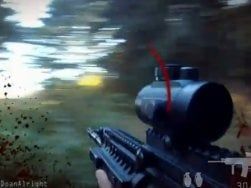 A video trailer featuring "in-game" play of the most realistic first-person shooter was released containing everything that makes online FPS games fun, including melee kills and tea-bagging. The trailer comes courtesy of YouTube user FreddieW who uses some snazzy effects and footage to put together a very convincing FPS experience.
The video is a spoof on popular online shooting games, such as Call of Duty or Combat Arms, with rapid-paced deathmatch play and ridiculously frantic action. The segment with the sniper who's spawn camping is hilarious.
You can check out the video below, which is a bit of an offset from what we normally post here but it's definitely worth checking out. Enjoy.
Staff Writer at CinemaBlend.
Your Daily Blend of Entertainment News
Thank you for signing up to CinemaBlend. You will receive a verification email shortly.
There was a problem. Please refresh the page and try again.