Multiplayer Details For SOCOM: Fireteam Bravo 3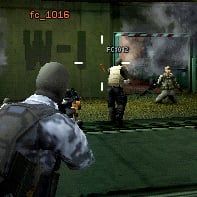 In the past, SOCOM titles have been a pretty big hit on the PSP and it's looking like SOCOM: U.S. Navy SEALs Fireteam Bravo 3 will be no different. Mark Rogers, producer for the game, recently detailed some of the games multiplayer aspects and features for the upcoming PSP third person shooter.
In Rogers comments over on the US PS Blog, he revealed that there will be 16-player competitive multiplayer with eight customizable maps, and seven new game modes. Among the new modes are Leader, in which you're allowed to designate a squad leader to spawn next to, and Tug-of-War, which lets players drain points from enemies. Playing online will allow you use of the SOCOM community with tournaments, clan challenges, voice chat, ladders, and character customization.
Three new screenshots from the multiplayer are below. Fireteam Bravo 3 hits retail shelves on January 12.
Image 1 of 3
Your Daily Blend of Entertainment News