Mutants: Genetic Gladiators Brings The Fight To Mobile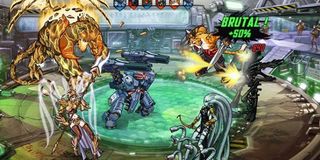 Finally making the leap from PC to mobile, Mutants: Genetic Gladiators today launches on iOS and Android as a free-to-play monster battle game, allowing players to collect creatures, enhance their abilities, then send them into battle to reap the rewards.
There's no shortage of monster battle games on mobile platforms these days but, garnering an audience of more than six million players since its release on PC last year, it sounds like developer Kobojo might have nailed down a solid formula for the genre.
For this initial mobile launch, Mutants: Genetic Gladiators is available on iPhone, iPad, iPod touc and "select Android tablets." Basically, head on over to the Google Play store and it should let you know if you can download the game on your specific device. All of those rocking an iDevice can just download the game from iTunes.
"Mutants: Genetic Gladiators is now set to expand its ranks to mobile by casting players in the role of a newly recruited Psy Captain," reads the press release from Kobojo. "Gifted with unique psychic skills to control and lead a legion of genetic gladiators, players must train and cross-breed their loyal minions to unlock new attacks and discover new species of mutant."
Basically, if you can imagine what a game like Pokemon would be like without all of that running around, you've pretty much got the idea of what to expect here. You'll create a team of gladiators, spend resources to make them stronger than ever, then throw them headlong into battle with increasingly difficult enemy groups.
Along with the single player campaign, those who download the game will be able to dive into worldwide competitions and multiplayer arenas to test their skills against other Psy Captains.
"After the success that Mutants: Genetic Gladiators has experienced on the PC, we are thrilled to be able to expand on that by providing iOS and Android gamers with the same fun and immersive mid-core gaming experience," said Kobojo CEO Mario Rizzo (Man, that's a lot of 'O' sounds in a single title/name). "With the mobile-specific user interface, menu system, and other improvements made to optimize the game for the mobile touch platforms, players will enjoy all the same rich monster breed and battling action that PC fans have come to expect from the series."
The game includes more than 100 monsters to collect and upgrade, as well as six different "mutant genes" to unlock and breed to create even stronger gladiators. Dive in, give it a gander, and be sure to let us know what you think of the game in the comments below.
Your Daily Blend of Entertainment News
Staff Writer for CinemaBlend.