My Little Pony (And Littlest Pet Shop) Games Being Developed For Mobile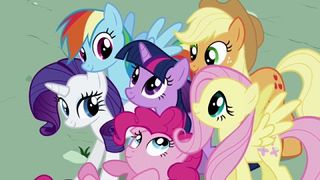 S'up, bronies. So, check it. Gameloft has announced they totally picked up the rights to make games for a couple of their properties. First up is Littlest Pet Shop, but who cares about those lil guys, amiright? The big news is that the second property is My Little Pony. We're totes getting some Pony games! *bro-hoof*
For the moment these games are only set to hit the mobile scene on Android and pretty much every iDevice under the sun. But who knows? If they pick up some steam, maybe we'll see a AAA Pony or Pet Shop title make its way to home consoles. (Note: That's probably not going to happen. Not even a little bit.)
Senior VP of Digital Media and Marketing at Hasbro, Mark Blecher, is pretty stoked, too. Check it…
"Creating highly inventive and accessible digital play experiences based on our world-class brands continues to be at the core of Hasbro's mission and we envision Gameloft to be a key player in the ongoing execution of that global strategy," Blecher said. "This agreement brings together Hasbro's powerhouse girls' brands with one of the industry's preeminent mobile game developers which will take My Little Pony and Littlest Pet Shop play to an entirely new level of fun."
Whoa, whoa, whoa! Wait just a gosh-darned minute, Mr. Blecher. "Girls' brands?" Dude is clearly in the dark about one of his biggest audiences for MLP. *double-bro-hoof*
Still no word on a release date for any of these games, but this should be more than enough info to get everyone excited. We're getting a new licensed My Little Pony (and Littlest Pet Shop, I guess) game!
Staff Writer for CinemaBlend.
Your Daily Blend of Entertainment News
Thank you for signing up to CinemaBlend. You will receive a verification email shortly.
There was a problem. Please refresh the page and try again.