NBA Street Homecourt Customizable Qualities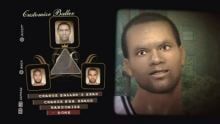 Electronic Art's NBA Street Homecourt won't just feature the standard high-definition, high-polygon count characters and courts. But the game will come fully equipped with customizable features for both the way your street baller looks and how they play. Street ball hasn't ever reached this level of interactivity; as EA offers gamers a whole new way to defend, put up a formidable offense and dunk like never before.
The game allows players to customize how their player looks, what position they take and what sort of playing style they'll mirror on the court. From there, gamers can take their team out to shoot some hoops in some of the most over-the-top, entertaining b-ball bouts imaginable. The new Trick Remixer gives players the ability to mix-and-match some of the fanciest footwork with some of the coolest ball handling; customizing tricks can easily make your opponent look like a fool, and masters at Trick Remixing will be game-killing all across the court.
With the new Dunk Controls players will have full authority on how they and dunk and what sort of moves they do while going up for the dunk. This comprehensive new schematic gives players lots of room to roll out flashy lay-ups and powerful slam dunks, as other teammates can even be used to help leverage a jump. Passing while running and jumping off the back off a teammate will give the player a little extra distance to travel in the air and allows for all sorts of mid-air combos and passing options. But don't take my word for it, you can view new footage of NBA Street Homecourt for the Xbox 360 and PS3 below.
Staff Writer at CinemaBlend.
Your Daily Blend of Entertainment News
Thank you for signing up to CinemaBlend. You will receive a verification email shortly.
There was a problem. Please refresh the page and try again.