Namco Announces Naruto: Ultimate Ninja 3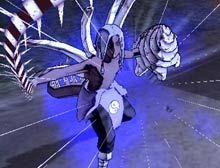 Namco and Bandai Games announced on November 9th, that Naruto: Ultimate Ninja 3, the third in the Naruto fighting game series, will be released in March 2008. Oh and for what system? The game is being made "exclusively" for the Playstation 2 gaming console.
Funny thing isn't it? How we are a year removed from the release of the PS3 . . . and yet well into 2008, new games are still being released on the PS2. And the PS2 is still a stronger seller for both consoles and games. And in case you don't realize what I'm talking about, I'm saying the PS3 is an overpriced, overweight piece of crap brick. Why is this game being released on PS2? Because that's where the audience for this series is. Both games in the series have been released on PS2 and done very well with this system. The people who play this series still own a PS2, not a PS3.
I'll credit Sony that they still at least see the value in the superior gaming console that is the PS2, but that's about it.
According to an official press release on the title from Namco Bandai, Naruto Ultimate Ninja 3 will allow gamers to "battle through 20 unique stages using more than 40 of the most loved and feared characters from the animation phenomenon . . . NARUTO: Ultimate Ninja 3 makes monumental leaps in the franchise with a host of "firsts" for the series. Players can now live through and be a part of all the major events that defined Story Arc 1 in Heroes History mode. Also, ninja-in-training can customize their characters with the Ultimate Jutsu which gives them that extra bit of edge during battle and allows them to earn points towards upgrading their strength, defense, chakra, agility and other special abilities. Turn playable characters into more powerful ninja of unprecedented size or summon giant creatures as allies with the new Summoning mode. In addition, NARUTO fans throughout North America can experience the game in both English and original Japanese voice over."
Letting fans choose between English or Japanese voice casts is a really interesting idea, and not something often done with games. This is certainly a good thing for fans that prefer the Japanese voices and subtitles, even though the English dub cast for Naruto has earned a strong critical and fan reputation in the US.
I just wish we could start seeing games from the Naruto: Shippuden series in the style of Naruto: Ultimate Ninja in the US already. That's the wait that is killing me more than anything.
Your Daily Blend of Entertainment News
Thank you for signing up to CinemaBlend. You will receive a verification email shortly.
There was a problem. Please refresh the page and try again.