Need For Speed: World Release Date Announced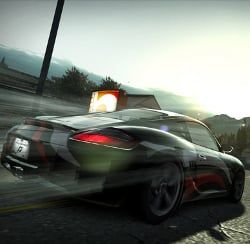 Today EA revealed when their MMO racer Need For Speed: World will go live. It will launch on July 20th and if you pre-order you'll be able to play even sooner.
World's client will be free to download through world.needforspeed.com when the game launches. The free client allows you to advance up to level 10 and experience all the events in those levels.
To proceed beyond level 10, you'll need to buy the $20 Starter Pack. The Starter Pack gives you "20 worth of SpeedBoost, full access up to level 50, a bundle assortment of power-ups like Nitrous and Traffic Magnet to help you get started, and an exclusive limited edition vehicle." Starter Pack owners will also be able to buy power-ups, double XP periods, and rental cars for additional money.
If you pre-order World, you'll be able to start playing the game on July 13th. During this headstart period, your Rep (XP) gains will be increased. Pre-order customers will also have guaranteed access to beta events, the ability to reserve their name, and a special VIP tag on their driver profile.
Staff Writer at CinemaBlend.
Your Daily Blend of Entertainment News
Thank you for signing up to CinemaBlend. You will receive a verification email shortly.
There was a problem. Please refresh the page and try again.