Neverwinter Screenshots Depict Foundry, Blackdagger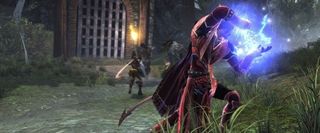 Perfect World has released a flood of new screenshots from their Dungeons and Dragons-inspired MMORPG Neverwinter. The images provide a glimpse at the toolset as well as some of the gameplay.
Neverwinter will ship with a feature called the Foundry. The Foundry allows players to create their own missions from scratch. As you can see in the images, the players will be able to build custom maps and fill them with a variety of monsters and other dangers.
The development team at Cryptic Studios will provide players with plenty of premade adventures as well. In one adventure from these images, players face off against the undead pirate Blackdagger. If the name sounds familiar, it's because that particular adventure was featured in the PAX trailer.
Neverwinter will be released next year on the PC. It will be free-to-play, with convenience items sold for real-world money.
Image 1 of 18
Image 2 of 18
Image 3 of 18
Image 4 of 18
Image 5 of 18
Image 6 of 18
Image 7 of 18
Image 8 of 18
Image 9 of 18
Image 10 of 18
Image 11 of 18
Image 12 of 18
Image 13 of 18
Image 14 of 18
Image 15 of 18
Image 16 of 18
Image 17 of 18
Image 18 of 18
Staff Writer at CinemaBlend.
Your Daily Blend of Entertainment News
Thank you for signing up to CinemaBlend. You will receive a verification email shortly.
There was a problem. Please refresh the page and try again.