Ninja Assassin Game Now Available For iPhone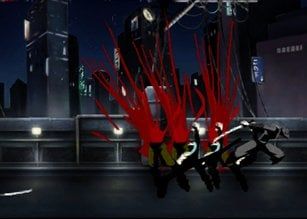 Warner Bros. Digital Distribution and Legendary Digital announced today that a video game version of the bloody-gory action movie is now available at the deadly fingertips of iPhone or iPod Touch users.
According to the press release…
The game doesn't look half-bad at all and seems to take on a little bit of the visual appeal from Muramasa: The Demon Blade for the Nintendo Wii. The game is just as bloody as the movie and features dismemberment, multiplayer mini-games and non-stop hack-and-slash action. Yeah so basically it's like Ninja Gaiden Sigma for the iPhone.
You can check out a full list of the game's features below or visit the Official Website for more information. Ninja Assassin for the iPhone and iPod Touch is currently available for mature gamers over the age of 17.
Ninja Assassin Features:
• Intense 3rd-Person Combat – Visceral "Hit-point" system allows player to sever enemy limbs
• Intuitive Hack-n-Slash Gameplay – Gesture-based combat controls enable the user to attack with a simple swipe of the finger
• Engaging Story – Featuring 12 action-packed levels spanning over 4 harrowing acts - separated by original hand-painted artwork inspired by the film
• Stunning Visuals – Showing-off highly stylized, vector-based character models
• Global Leaderboards – Player can rank themselves against the rest of the world
• Personalized Playlist – Listen to your own music while slicing and dicing your way through the game
• Multiplayer Mini-Game – Using Bluetooth connectivity, fling razor-sharp shurikens from one device to the other
Your Daily Blend of Entertainment News
Staff Writer at CinemaBlend.