Ninjas And Pirates In The Ultimate Dodgeball Showdown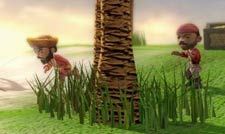 Geeks everywhere are likely to have a collective nerdgasm over the thought of pirates and ninjas battling it out in a dodgeball fight to the death—and that's exactly what Gamecock's newest title: Pirates vs. Ninjas Dodgeball is all about. Ninjas and Pirates, two of geekdom's most notorious warring factions are competing to prove once and for all which stereotype is #1 in the hearts of the nerdy. And yes, thanks to Gamecock, they now have the balls to prove it. (Sorry, it had to be said.)
From the Press Release: Pirates vs. Ninjas™ Dodgeball is being developed using Infyrno™, Blazing Lizard's next-gen proprietary game engine. Allowing only the sweetest gameplay with art, style and a theme suited for all age groups, Pirates vs. Ninjas™ Dodgeball pits scurvy against ninjitsu and cutlass versus katana, to settle the world's oldest debate; who'd win – Pirates or Ninjas (or possibly one of the other unannounced teams)? The title will include Exhibition, Story, and Challenge modes with multiplayer support for 4 players Local / 8 players Online, and 4-player Co-op modes. So which flag will you fly? The Jolly Roger or the Rising Sun?
Any company that willfully uses "sweetest" as an adjective in a press release when referring to a game involving ninjas has clearly done their homework on the subject. They've got my interest for sure. But what of these unannounced factions? Will I finally be able to realize my dream of seeing hippos emerge from Davy Jones's Locker to join the fray?
Developed by newcomer Blazing Lizard Inc., it's heartening to see that Gamecock has signed on to be their publisher. Despite a name that would make a schoolgirl blush, Gamecock is one of the most excitingly vocal publishers criticizing the state of the gaming industry today, believing firmly in bringing creative and original content to an industry they see as increasingly dull and mundane. Check out their about page: it's full of damningly awesome tidbits like this one:
Independent developers have always brought the goods to this business, creating the franchises that inevitably get stripped from them and driven into the ground by quarterly promises and the endless crunch imposed by producers who have never created a thing in their lives.
Damn. Awesome. That being said, this game has a lot to live up to if it hopes to capture the true essence of all that is ninja and all that is pirate. We geeks have standards, and while I'll admit that the red eyes on the ninja are a good start, true ninja connoisseurs will expect nothing short of real ultimate power. The ninjas can't just rock, they must wail, and if those pirates even so much as drop one spoonful of sugar whilst sweetening their rum, I expect to see the entire ninja team flip out and kill an entire village. Doing it with dodgeballs, will only make it that much more badass.
Pirates vs. Ninjas Dodgeball will be available for download in early 2008. Despite the awesome stars of the show, any and all flipping out will be kid-friendly and mother-approved.
Your Daily Blend of Entertainment News
Thank you for signing up to CinemaBlend. You will receive a verification email shortly.
There was a problem. Please refresh the page and try again.