Nintendo Downloads: Samurai Shodown III, Fenimore Fillmore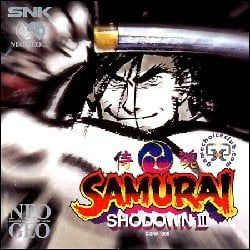 Nintendo's got a special treat for you today: a new Virtual Console game. That's becoming an increasingly rare treat these days. Samurai Shodown III can be yours for eight bucks.
WiiWare
Fenimore Fillmore "The Westerner"
Publisher: Revistronic
Players: 1
ESRB Rating: E (Everyone) - Cartoon Violence, Mild Language, Use of Alcohol and Tobacco
Price: 1,000 Wii Points™
Description: Welcome to the West! Come and see the fastest cowboy in action. Visit a typical Western town with a grand saloon, a sheriff's office and a bank. Meet the classic doctor, the powerful "master of the land," an industrious pioneer and men and women who raised a great nation with their blood, sweat and tears. But there are things that cannot be helped, and one of them - very typical in the West - is the continuous fighting between farmers and cattle ranchers. While farmers used to win the sympathy of most people, cattle ranchers had more money, more men and more power. Only a cowboy as peculiar as Fenimore Fillmore could side with the farmers when the rest of the cowboys are paid by the merciless and sinister cattle rancher.
Virtual Console
SAMURAI SHODOWN III
Original platform: NEOGEO
Publisher: D4 Enterprise
Players: 1-2
ESRB Rating: T (Teen) - Blood, Use of Tobacco, Violence
Price: 900 Wii Points
Description: This is a fighting game released in 1995 as a sequel to the previous year's release of SAMURAI SHOWDOWN II. Though this is the third installment in the series, the story takes place between the first and second installments. Players can choose from 12 samurai seeking to defeat Zankuro Minazuki. Along with minor upgrades from the last version - such as the ability to press buttons to fill your rage gauge and the ability to defend in midair - you can also select from slash and bust personality types for each character. Each type has its own set of special moves you can take advantage of, effectively doubling the amount of characters you can play.
Nintendo DSiWare
Simply Mahjong
Publisher: Engine Software
Players: 1
ESRB Rating: E (Everyone)
Price: 200 Nintendo DSi Points™
Description: Simply Mahjong gives you exactly what you want: pure mahjong on your Nintendo DSi system. Mahjong is a Chinese tile-matching game. The tiles are arranged in a special pattern with their faces upward. A tile is said to be open if it can be moved either left or right without disturbing other tiles. The goal is to match pairs of identical tiles. The game is finished when all pairs of tiles have been removed from the board or there are no exposed pairs remaining. The simple game design and easy, intuitive controls make it a game that the whole family can enjoy. The game features 50 puzzles in each level to provide hours of fun.
My Exotic Farm
Publisher: BiP Media
Players: 1-2
ESRB Rating: E (Everyone)
Price: 200 Nintendo DSi Points
Description: My Exotic Farm is an exotic farm simulation game. In the beginning, all you own is an empty field, a few pennies and a single parrot. If you feed and take care of it, the parrot will make feathers that can be sold. With this money, you can buy new animals at the Farmers' Market and purchase equipment from the shopkeeper. Little by little, as your farm builds up, you will unlock bonuses including a well, a great green macaw, a guard dog and a 4x4. You can also exchange animals with your friends who play My Farm or My Exotic Farm.
Music on: Acoustic Guitar
Publisher: Abylight
Players: 1
ESRB Rating: E (Everyone)
Price: 200 Nintendo DSi Points
Description: It's like having an acoustic guitar in your pocket! Play your favorite songs easily with the predefined chord option and enjoy the high sound quality. Hear the fingers on the frets and the nails while strumming. A directory of more than 900 chords shows you how to place your fingers on a real guitar and lets you listen to them when selected. Five different styles will accompany you to set the mood: Pop Rock, Soft Rock, Country, Ballad and Blues. Other features include a palm mute function, a metronome and the ability to save up to 10 sessions.
Staff Writer at CinemaBlend.
Your Daily Blend of Entertainment News
Thank you for signing up to CinemaBlend. You will receive a verification email shortly.
There was a problem. Please refresh the page and try again.