Nobunaga's Ambition Hits Gold Status With New Screenshots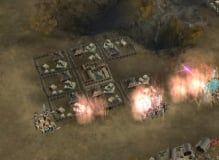 History simulation is usually relegated to RTS or turn-based strategy games, for whatever reason. And continuing that tradition is Koei's upcoming Nobunaga's Ambition: Iron Triangle. The game has just gone gold, which means it will be shipping soon, and Koei has released a few screenshots in correlation with the gold status.
Nobunaga's Ambition: Iron Triangle takes place during the 16th century, Feudal Japan. Players assume the role of Nobunaga as he conquers up to nine historical and fictional provinces. Players will interact with 1,000 daimyo and sub-officers, and there's the unneeded, but very welcomed addition of a character-creation tool that players can use to populate the virtual world.
Nobunaga's Ambition: Iron Triangle will be exclusively available on the PlayStation 2 on January 27th. The game is also rated 'E' for Everyone. It sure does seem like a waste that this isn't being produced for the PS3, as we all know that the darn thing could use a few extra exclusives that don't happen to be on the PlayStation Network.
Anyway, you can learn more about Koei's diplomatic strategy game by visiting the Official Koei Website. For more news and info on all things gaming, be sure to stay tuned in with Blend Games.
Image 1 of 14