Nyko Frontman Wireless Guitar Controller Now Available For PS2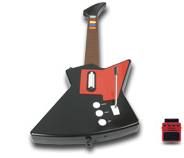 So you've been rocking-out hard to Guitar Hero, eh? Well get ready for some more fret-bumping grooves with the not-so-air-guitar action from Nyko's new Frontman Wireless Guitar controller. If you're not playing your guitar without a wire, then you really don't deserve to be a Guitar Hero.
The 2.4ghz wireless Frontman Guitar will give gamers everything they need to fulfill their [Guitar Hero] dreams. With up to 25 feet of solid air between gamers and the console...the only thing left to do is clean out the den of breakable furniture and rip those chords 'till your rocker-wannabe fingers bleed. Eh, or maybe it'll just be convenient for people who don't want to smash up to within six feet of their television to play Guitar Hero or Guitar Hero II.
Well, anyway, there were a few comments from Nyko's Marketing Manager, Chris Arbogast, regarding the new wireless guitar addition to Nyko's PS2 gaming gear lineup, "The release of the Frontman controller marks an exciting time for 'Guitar Hero' and 'Guitar Hero II' players," said Chris. He continued on to say, "The Frontman's wireless technology, premium construction, and spot-on responsiveness makes it the perfect controller for those seeking premium, hard rock performance."
You can currently pick up Nyko's Frontman Wireless Guitar Controller for the PS2 for the suggested retail price of $59.99. For further information regarding the Frontman Guitar or other Nyko products, you can visit the Official Nyko Website.
Your Daily Blend of Entertainment News
Staff Writer at CinemaBlend.