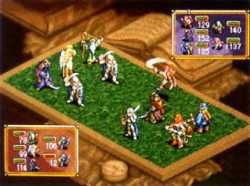 Remember Ogre Battle: The March of the Black Queen? Even if you don't, it's back, baby. The turn-based role-playing game has been rated for the Wii by the ESRB, likely indicating a re-release of the game on the Virtual Console retro-game service.
Originally released for the SNES in 1993 in Japan and 1995 in North America, March of the Black Queen puts players at the helm of a revolution against the Zeteginan Empire in a medieval fantasy world. For a game that old, it had a surprising amount of depth with a full-fledged alignment system as well as 75+ character classes. The ESRB gave it an "Everyone" rating, if you're curious.
There's been no official announcement from publisher Square Enix about this so no price or release date is known at this time. The standard rate for SNES games on VC is 800 Wii Points ($8) so expect to shell out around that much. That's a lot less than you'd have to pay for an original cartridge off Ebay; apparently only twenty-five thousand copies of the game were shipped to the United States back in the nineties.
Your Daily Blend of Entertainment News
Staff Writer at CinemaBlend.