PC Deus Ex: Human Revolution Developed By Nixxes Software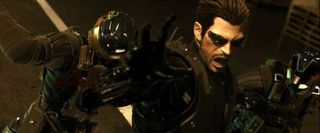 Eidos Montreal is not the sole developer of Deus Ex: Human Revolution. In a new interview, director Jean-François Dugas revealed that Netherlands developer Nixxes Software BV helped create the PC version.
Gamers tend to be skeptical of ports that have been farmed out to other studios. There's been plenty of examples in gaming history where said outside developer has botched the game pretty badly. In his interview with Shacknews, Dugas stressed that Eidos still had a hand in the PC version's development.
"All the design and changes to the design has been done in Montreal and sent to [Nixxes]," said Dugas. "We review the builds. We review and then give comments about what works and what doesn't. It's the same process. It's the exact same process, except that the programmers aren't in the same office. It's the same game and the same creative team taking care of it."
The PS3, Xbox 360, and PC versions of Human Revolution will all hit stores on August 23rd in North America.
Staff Writer at CinemaBlend.
Your Daily Blend of Entertainment News
Thank you for signing up to CinemaBlend. You will receive a verification email shortly.
There was a problem. Please refresh the page and try again.