Pac-Man's Greatest Players Are Coming Together With One Near Impossible Goal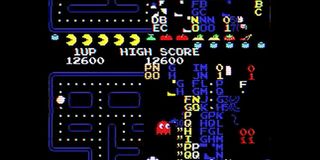 The 256th level of Pac-Man is said to be absolutely impossible to beat.
Four of the world's most talented arcade game players are looking to change that. The Twin Galaxies Pac-Man Kill Screen Challenge (via IGN) will be broadcast all around the world on TGLive.com this Saturday, July 25th at 5 p.m./8 p.m.
During the challenge, the top four players will be streaming their attempts live for the first time in history. attempting to get past the 256th level that's actually a kill screen, or a programming error that results in a massive jumble of numbers, letters, code, and glitched out symbols. Players can hardly see what's going on in front of them in the level thanks to this code obscuring their vision, so if someone can actually pass the level, that's going to be a feat and a half.
If the players make it past the 256th level kill screen, they'll keep playing in an attempt to set new Pac-Man records in what many are calling one of the most "impossible competitions" the gaming community has seen in some time.
It's a great time to shed some publicity on Pac-Man too, who's celebrating his 35th anniversary. Bandai Namco is releasing a special game based on this very glitch for the occasion called none other than Pac-Man 256, where players will still play classic Pac-Man, but there'll be a lot of different power-ups and mechanics to watch out for in addition to the ghosts and the other errors that'll befall you. In essence, it's almost like a training sim for the challenge these arcade pros are gearing up for!
Crossy Road studio Hipster Whale is tackling the challenge, and the game is expected to release for iOS and Android owners this summer. In addition, you'll be able to catch Pac-Man in this summer's Pixels.
It's a great time for Pac-Man fans, and it'll be interesting to see if any of these hardcore arcade gamers can give the 256th level a run for its money.
Your Daily Blend of Entertainment News