Penny Dreadful Video Game Isn't What You're Expecting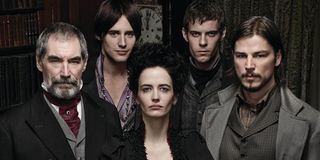 SHOWTIME's horror series Penny Dreadful is getting its own video game. Midverse Studios is developing Penny Dreadful: Demimonde for a fall release.
Penny Dreadful is a horror series with characters inspired by 19th century Irish and British fiction. The cast of the first two seasons has included Dr. Frankenstein, Mina Harker and Dorian Grey. The main characters have to contend with a variety of supernatural threats including witches, vampires and werewolves.
In your head, you're probably picturing a shoot 'em up Penny Dreadful game where you fight through hordes of monsters on the streets of London. Or you're picturing a Telltale-like experience where you influence the story through your dialogue choices.
However, Demimonde is actually far different from that. Midverse says it's primarily a collectible card game. Players will gather cards based on characters and creatures from the show and then use their deck in head-to-head battles against other players. There are also some puzzles seeded throughout the game as well.
Midverse Studios CEO Rizwan Virk says that it's intended for both series newbies and veterans:
Midverse will release Penny Dreadful: Demimonde for smartphones and tablets via the App Store, Google Play, and Amazon Kindle. The game will also be released on Facebook at a later date. You can sign up for a beta at MidverseStudios.com later this summer.
Penny Dreadful's second season just wrapped up on Sunday. The series was just renewed for Season 3 as well. You can check out the show on SHOWTIME, either through their cable channel or newly launched standalone streaming service.
Staff Writer at CinemaBlend.
Your Daily Blend of Entertainment News
Thank you for signing up to CinemaBlend. You will receive a verification email shortly.
There was a problem. Please refresh the page and try again.