PlanetSide 2 Vehicles And Weapons Teaser Trailer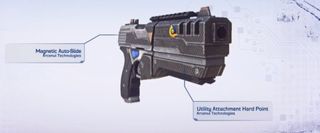 Sony Online Entertainment released a new video trailer for PlanetSide 2 featuring a few of the vehicles you'll be able to man, as well as a few of the weapons you'll be able to use, in addition to some of the armor you'll be able to wear.
PlanetSide 2 is the long awaited sequel to one of the few true-to-form open-world MMOFPS games. Not a whole lot has been said about PS2 nor has a lot of gameplay footage been shown off. Still, what we have seen gives a good glimpse at the next-generation of open-world warfare, with two different factions going head-to-head to control resource management points as well as working together to overthrow the opposing factions.
It reminds me of what an RTS game like Command & Conquer would be like if it were played entirely from the perspective of soldiers on the ground. There's also the prototypical weapon advancement, item advancement and vehicle advancement, clans and more.
You can check out the teaser trailer below and we'll be sure to keep you posted on additional news and assets for PlanetSide 2. For more info on the game feel free to pay a visit to the Official Website.
Staff Writer at CinemaBlend.
Your Daily Blend of Entertainment News
Thank you for signing up to CinemaBlend. You will receive a verification email shortly.
There was a problem. Please refresh the page and try again.