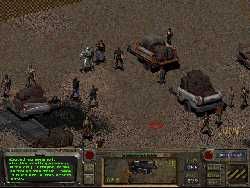 Fallout 3 is a month away and if you've never played any other games in the series, here's your chance: GameTap is now offering the original Fallout for free. That's right, playing it won't cost you a single Nuka-Cola cap - it'll help you understand the reference I just made, too.
All you have to do is sign up for a GameTap account. You don't purchase games in the traditional sense; it's an online service that allows you to play games so long as you have a subscription. No mention of whether the game will be permanently free or if this offer is just in place until Fallout 3's release. A month is enough time to beat it, though. Fallout 2 is also available on GameTap now, too, but you need a Gold subscription ($9.99/month).
The Fallout games are some of the best PC RPGs around and I really can't recommend them enough. Those games, along with the Baldur's Gate series, are the reasons why I got bored with Japanese console RPGs. If you've already played and replayed the first two Fallout games, here's a list of a few other post-apocalyptic games to occupy your time for the next month.
Your Daily Blend of Entertainment News
Staff Writer at CinemaBlend.